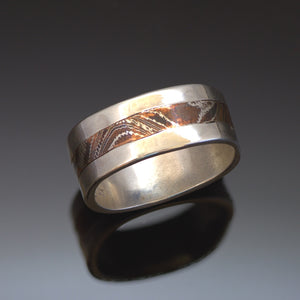 Full Moon Joolz
Mokume Silver Ring, 10mm / R197
Regular price
$206.00
$0.00
Unit price
per
Wide sterling silver ring with a silver band on either side of mokume gane inlay (fused copper and silver). The inside of the ring is solid sterling silver.
Approximate width 10mm // 3/8"
Mokume band is approximately 3mm // 1/8" wide
This is a wide ring made square and slightly rounded to fit the natural shape of the finger. Especially suitable for wider bands such as these. Choice of round or hammered square. If you have a preference, let us know when you order.
For different width or size, please contact us.
Mokume Gane translates from the Japanese as 'wood grain metal'. Mokume consists of metal sheets made into laminated blocks through fusion. Then it is forged and rolled through a rolling mill, filed, drilled and rolled out again until we have a thin sheet with a variety of patterns. These rings are made with at least 3 different moving parts plus the mokume itself consists of 21 layers of silver and copper. Because of the nature of mokume the pattern varies and no two rings are exactly alike. 
The beauty of silver and copper mokume is, that copper is a softer metal than sterling silver and reacts faster with the everyday wear. The lines can get more pronounce, sometimes it can look almost like a topographical relief. The mokume can change from day to day in colour, contrast and shape.
If we have your item in stock, we will ship it within 2 business days. Otherwise please allow 4 to 6 weeks average for us to fill your order or contact us if you have a deadline and time is an issue.
Designed and handcrafted on Salt Spring Island in British Columbia, Canada.
Click the "Add to Cart" button to place your order now.
---