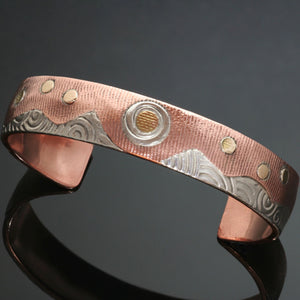 Full Moon Joolz
Copper Silver Gold Mountain Bracelet B53
Regular price
$297.00
$0.00
Unit price
per
This copper bracelet is made with embossed silver and copper cut in waves shaped like mountains, a 14k gold fill circle in the centre representing the sun or moon and 3 round 14k gold fill circles on either side of the centre.
Approximate width: 1.8 cm // 0.71"
Bracelet length (with an approximate opening of 3cm):
- small: 13 - 14cm or 1/2" - 9/16"
- medium: 15 - 16cm or 0.59" - 5/8"
- large: 17 - 18cm or 11/16" - 0.71"
For shorter length please note your wrist size or desired bracelet length at checkout. For larger than 18cm please contact us.
Some sizes might be available immediately. Otherwise please allow 3 to 4 weeks average for us to fill your order or contact us if you have a deadline and time is an issue.
Designed and hand crafted in British Columbia, Canada. Although we try to make it exactly as you see on the picture, the colour and the silver pattern might vary slightly, each bracelet made will be subtly different but equally as beautiful.
---